Crumlin Road Gaol - Belfast, Ireland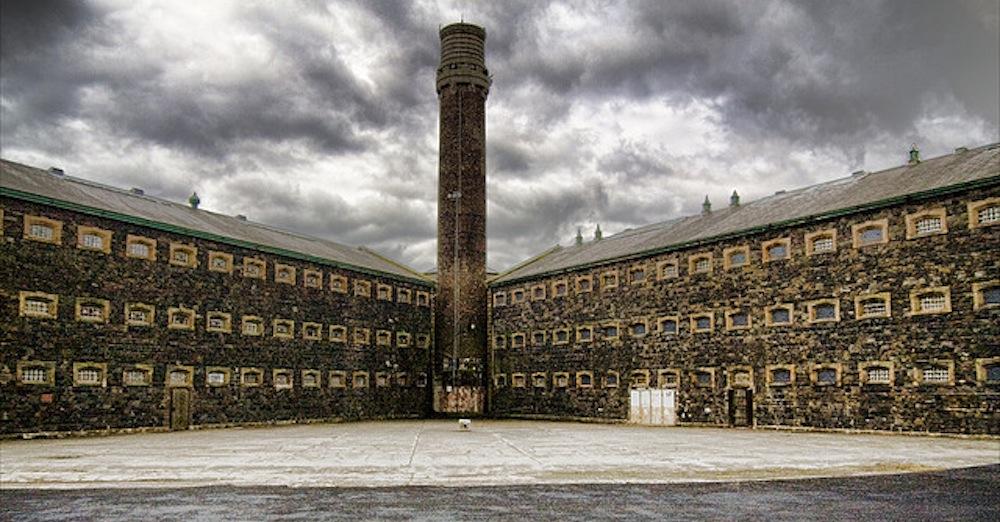 Crumlin Road Gaol [Larger version here]
Crulin Road Gaol, the last Victorian Era prison standing in Northern Ireland, was built between 1843-1845 as a replacement for the former prison at Antrim Street in Carrickfergus. As such, it was originally known as the 'County Gaol for Antrim;' and the first prisoners in the jail were 106 men, women, and children who were transferred from the old Antrim prison in March 1846. And yes... I did say 'children.' More on that in a moment.
        Closed as a prison in 1996, the decision was made in 2003 to renovate the jail and open it as a tourist attraction. The prison has been attributed a colorful and violent history, befitting a place that is expected to be haunted (which is not an unusual expectation for pretty much any former prison, really).  Some of these claims I have been able to confirm... some I have not. For example, it's rumored that the transfer of inmates from the old Antrim prison was accomplished by making the prisoners walk, in chains, from one prison to the other, a distance of about 18 Miles, which is a claim I can't yet confirm.
        One sad story I have been able to confirm is that in 1858 a thirteen-year-old boy named Patrick Magee was sent to the jail for stealing clothing from a washer woman. It had been his third offense, so he was sentenced to three months in jail... but he hanged himself within a few hours of being put into a cell. A law passed after, and in the same year, that stated children under sixteen guilty of a crime would henceforth be sent to reform schools instead of prison; but it was another ten years, not until 1868, before this same ruling covered for children guilty of vagrancy. So for ten years, a thief would go to reform school... but a child guilty of nothing more than hanging out too long would go to jail.
         It's also been stated that in the 150 year history of the prison, there were 17 executions (by hanging), and that 15 of those dead were buried in the prison grounds; so in unconsecrated ground, another point associated with a possible haunting. In addition to those claims, the prison has a known long history of being used to detain political prisoners as well.
        Strangely, however, I don't see mention of any sort of ghost activities until the prison was reopened in 2007 as a tourist attraction... at which point in time tales of "old stories" about hauntings and general spookiness began to appear with ghost photos. By 2012, the prison added "paranormal tours" to its list of offerings for visitors. So, for now, I have a genuine wariness of the claimed 'hauntings' at the Crumlin Road Gaol; but I will gather the reported stories as I find them, and see what we can see.
The following links each go to an account involving the Crumlin Road Gaol.
Anomalies -- the Strange & Unexplained, as well as my other website -- Monsters Here & There -- are supported by patrons, people like you!
All new Anomalies articles are now posted for my patrons only, along with exclusive content made just for them. You can become a patron for just $1 a month!