Myrtles Plantation - St. Francisville, Louisiana, USA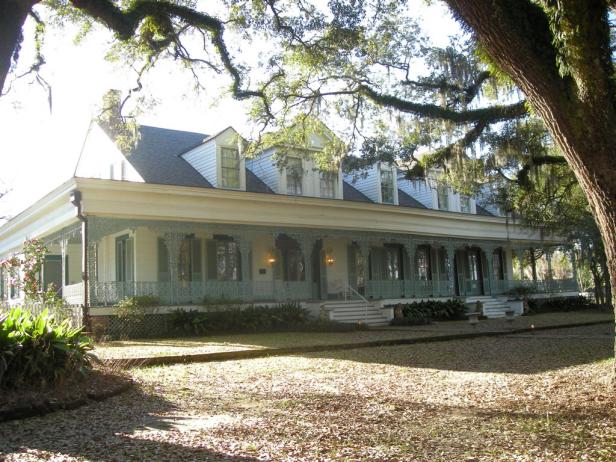 The Myrtles Plantation. [Larger version here]
In 1794, General David Bradford was on the run. He had been a key figure in the "Whiskey Rebellion" -- an armed insurrection against a tax on alcoholic beverages that was put in place in 1791, to help raise money to cover the debts created by the War of Independence. In 1794, the various aggressions had come to a head, and George Washington himself led armed forces to end the conflict... which is why Bradford found himself on the run for his part in the resistance.
        But it wasn't all bad. Bradford fled down the Mississippi River to Louisiana and was able to obtain a Spanish land grant for around 650 acres of land. On that he built a plantation he dubbed "Laurel Grove" and, once he was officially forgiven for his part in the Whiskey Rebellion in 1799 by President John Adams, Bradford brought his wife and family to live with him there.
        The plantation was renamed "the Myrtles" around 1834 by the third owners, Ruffin Gray Stirling and his wife, Mary, who also greatly expanded on the original house. Modernly, The Myrtles Plantation is open to visitors and offers a bed and breakfast service... but the place is best known for its reputation of being haunted [Which is, of course, why it's here].
        Legend tells that the second owner of the plantation, Clark Woodruff, had a torrid affair with a beautiful slave named Chloe... but when he dumped her, she responded by poisoning a birthday cake, which killed Woodruff's wife and two of his children. The other slaves then responded by hanging Chloe from a tree and throwing her body into the Mississippi River. Chloe and the family she killed are now often reported as apparitions that are seen in and around the house. [Just so you know: I'm preparing a closer examination of the legends related to Chloe, which I'll attach to this article at a later date.]
        Another legend tells that the fourth owner, an attorney named William Drew Winter, was shot by a stranger and then struggled up the stairs in the house, dying on the 17th step. It's said that the sound of his feet on the stairs are still heard by visitors to this day. In addition, there is said to be around seven other repeating ghosts seen and encountered on the plantation grounds, though the original identities of these other entities is unknown.
        Oddly, despite the number of legends attached to the Myrtles, actual reports of the haunting only really started to be printed around 1989... and a number of the reports since then look quite false. This is likely due to the fact the Myrtles is a tourist attraction; new reports of strange activity, good or bad, probably never gets directly denied by the venue since all of it attracts customers.
        So here's a list of claimed ghost reports; judge for yourself what to think of them.
Anomalies -- the Strange & Unexplained, as well as my other website -- Monsters Here & There -- are supported by patrons, people like you!
All new Anomalies articles are now posted for my patrons only, along with exclusive content made just for them. You can become a patron for just $1 a month!