Frank Edwards [1908-1967]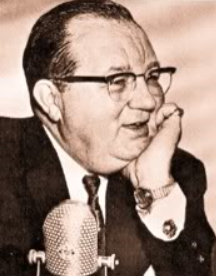 Type: Embellisher
Relevant Bibliography:
Strangest of All, 1956
Stranger Than Science, 1959
Strange People, 1961
Strange World, 1964
Flying Saucers: Serious Business, 1966
In addition, his stories have since been republished in different mixes with new titles... but it's the same stuff as in the above books.
Flying Saucers: Here and Now (no date given)
Our Highly Strange World, 2017
Fun Fact: Frank Edwards' book Stranger Than Science was one of the two biggest influences on my interest in weird crap! (The other influence? The orginal Ripley's Believe It or Not books...)
Frank Edwards was already a very popular radio personality when he premiered his "Stranger Than Science" radio program sometime in 1954/55. This program featured weird and mysterious 'true' stories, which were often borrowed from the pages of FATE Magazine, to which Edwards was a frequent contributor as well. Eventually, Edwards started to collect and publish the stories he was telling, and it resulted in five books that sold very well worldwide and in multiple languages.
        Unfortunately, Edwards was always an entertainer first... and, as such, he often spiced up stories to make them more interesting or to expand them to fill time on the radio, which means he often added new details that were never there before. And because of how popular Edwards' books were, many following "researchers" started to repeat Edwards' new versions of older tales complete with the new fictional details! And I've been cleaning it up ever since...
        Below is the list of accounts that Frank Edwards' added his own special touch to that are in Anomalies.
Anomalies -- the Strange & Unexplained, as well as my other website -- Monsters Here & There -- are supported by patrons, people like you!
All new Anomalies articles are now posted for my patrons only, along with exclusive content made just for them. You can become a patron for just $1 a month!