1886, October 21 (ca.): The Rain Trees (Patrons Only)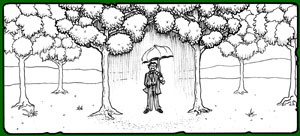 The newspapers claimed rain was falling in Charlotte, North Carolina, between two trees everyday starting at three in the afternoon... but it was a bit weirder than just that.
This article is for Patrons Only

Click Here to go to Full Article in Patreon

Anomalies and its sister site Monsters Here & There are supported by my Patrons, people like you. Part of how I thank them is to present articles that only they get to see, and this is one of them. The full article is available at the Patreon website.

You can become a sustaining Patron of my websites by making a recurring pledge of just $1 a month! All Patrons get early view of new articles in both Anomalies and Monsters Here & There through the Patreon website, as well as, of course, exclusive articles. Patrons also get free downloads of all Anomalies eBooks, and other Patron Only special content!