1968, May 17: Tent Girl
On May 17, 1968, Wilbur Riddle discovered the body of a young woman wrapped and tied in a canvas bag thirteen miles north of Georgetown, Kentucky, USA.
        That morning Riddle had gone to Eagle Creek, which runs alongside Interstate Highway 75 in Scott County, to look for glass insulators left behind by workmen repairing phone lines in the area; he planned to paint them and sell them as curios. About 11:00AM, while hunting around near the interchange of I-75 and U.S. 25, he found an odd bag in some bushes just over a fence beside the highway. It was fairly big; a green canvas bag, like a tent would be rolled up in, wrapped all around with a thin cord. Curious, he pulled the bag loose from the underbrush, but it got away from him and rolled the short distance to the edge of the creek. Riddle walked down to the bag and tried to pull it open, when he noticed a horrible odor coming from inside it. He immediately ran to his truck and sped to the nearest pay phone, where he called Bobby Vance, the Scott County sheriff.
        Minutes later, Riddle was showing his find to not only Sheriff Vance, but also Deputy Jimmy Williams and Deputy Coroner Kenneth Grant. The bag contained the badly decomposed body of a female, naked but for a towel of some sort that was wrapped around her head; she had obviously been dead for weeks. She was doubled up in the bag, and her right hand was clenched like a fist. A search of the immediate area turned up no other physical evidence.
        The body was taken to St. Joseph Hospital in Lexington, where Deputy Coroner Kenneth Grant and his assistants determined the girl had been Caucasian, five feet and one inch tall, weighed about 110 to 115 pounds, with an estimated age of between sixteen and nineteen years old, short reddish-brown hair, and no identifying marks, scars, or piercings. She had not been shot, and she had not been pregnant; she had been dead for about two to three weeks. With diligence and luck, a single fingerprint was recovered from her badly decomposed hand.
        Dubbed "Tent Girl" by a reporter with the Kentucky Post & Times Star because she'd been found in a 'tent bag', the search for her identity was assisted by Scott County Attorney Virgil Pyror, who called in coroner Dr. Frank Cleveland to perform a more complete autopsy. Cleveland found a slight discoloration of her skull, and no evidence of poisons or toxic materials. Overall, the evidence suggested that she had been knocked unconscious by a blow to the head, then stuffed into the bag and tied up, only to die by suffocation later.
        Sheriff Vance and his men began to search for anyone who might have been in the area of the body in the past few weeks, but the investigation turned up nothing. Two weeks later, the Kentucky Post & Times Star asked Harold Musser, a patrolman and sketch artist with the Covington Police Department, to produce a portrait of the Tent Girl from the photographs of the body taken during the autopsies. After a week of studying the photos, Musser produced a portrait that was then published statewide in a further attempt to identify the girl... and lead after lead began to appear.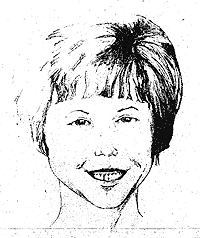 Police sketch of victim. [

Picture sources here

]

        The police spent hours digging through letters, and following up leads; none of them helped. The problem was that the Tent Girl was very average in her appearance, with no singular striking feature... she was the generic girl-next-door, and literally hundreds of missing girls fit what little was known of her physical description. One lead in particular looked promising; a missing girl from Pasadena, Maryland, named Dorris Ditmar. But, despite matching dental records, the lead was a bust... Ditmar turned out to be alive and well, and living in Bradford, Pennsylvania.

        While police were still checking the Dorris Ditmar possibility, a truck driver reported seeing a pair of hitchhikers on U.S. 25, near where the body had been, two weeks before it was found. He said he was driving through the rain about two and a half miles north of Sadieville when he passed them; a young man and woman, wearing clothes too light for the weather.

        A phone call later from a retired heavy equipment operator confirmed the truck driver's story. The operator had picked up two hitchhikers, a young man and a woman, on April 14th near the spot the body would later be found. The young woman was wearing a short dress, gray sweater, and a light blouse, and the operator was positive it was the same person as the police sketch; the young man was described as having "hippie-like" hair, and both had camping packs with them. As he drove south, the young couple kept arguing with each other, and, finally, he told them to get out. He last saw them hitchhiking back North towards Georgetown.

        Police had also received an anonymous call that claimed the towel found with Tent Girl had been cut from a roll in the restroom of Noble's Restaurant in nearby Corinth three to five weeks before the body was found, and that part of a girl's shoe had been found nearby. Sheriff Vance and Deputy Williams drove out to check the lead; at the restaurant, they cut a piece of towel for later comparison to that which had been found with Tent Girl, and showed the police sketch to patrons to see if anybody remembered seeing her. But no one did... and the rumored shoe never turned up, nor did the towel from the restaurant match the towel found with the body.

         In fact, it turned out the "towel" found with the body wasn't even a towel... a FBI lab in Washington identified it as part of a baby's diaper (specifically, a "Birdseye" diaper). The same lab had performed tests on the canvas bag and cord that had held the body; and the tests indicated that everything was of standard materials handled by a large number of manufacturers and distributors. They were unable to narrow down the leads.

A Connected Crime?

       Just as all possibilities seemed used up, a new lead appeared. In Bucks County, Pennsylvania, another girl was found dead under very similar circumstances.

       Her name was Candace Clothier, and she was sixteen when she disappeared from her home in Philadelphia at about 8:30PM on Saturday, March 9, 1968. Although more than three-hundred people participated in the search for her, she was not found until shortly after 5:00AM on April 13th, when three fishermen -- Matthew Porpora (41) of Penns Park, and Paul Franklin (47) and Jim Franklin (28) of Furlong -- discovered her body in Neshaminy Creek in Bucks County, just a few miles north of Philadelphia. The body was tied up in a bag that had washed up on a small island in the creek.

       Clothier's body was taken to Lower Bucks county Hospital for an autopsy. The canvas bag had been tied around her neck, and she had a wool sweater wrapped around her head. From her state of decomposition and the mud encrusted on the bag, it was obvious she had been dead for some time. According to a newspaper article the body was never directly identified, but the clothing was identified by her father, Elmer, and her sister, Susan.

       By late June, Philadelphia detectives had interviewed over a thousand people, but still had no good leads as to who had killed Clothier. But when they saw reports about the Tent Girl case, there was too much of a resemblance in the circumstances between the two murders to be ignored. In early July, Chief Fergione of Philadelphia drove to Kentucky to compare notes.

       Not only had both girls been tied up and disposed of in the same manner, but both matched closely on comparisons of weight, height, hair, and body structure. Unfortunately, while it was undeniable that the two cases were probably linked, knowing that still didn't help solve either one. As the months dragged on, and the case files for each grew larger and larger, the leads continued to run into dead ends. By November 1st, there were very few possibilities left to be explored. A second sketch of the Tent Girl was requested from Harold Musser; this new portrait was distributed and produced leads; but these, too, failed to help the investigation.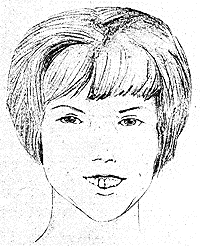 Second sketch of victim. [Picture sources here]
       In May, 1969, Scott County police tried one last time. An article detailing the Tent Girl case was run nationally along with the new portrait in Master Detective magazine, in the hopes that a reader might have information that would help the dying investigation. But any possible leads that were produced must have also proven useless, for the young woman remained unidentified for a further 29 years; she was buried in a county-owned section of the Georgetown cemetery with a gravestone that identified her, simply, as "Tent Girl."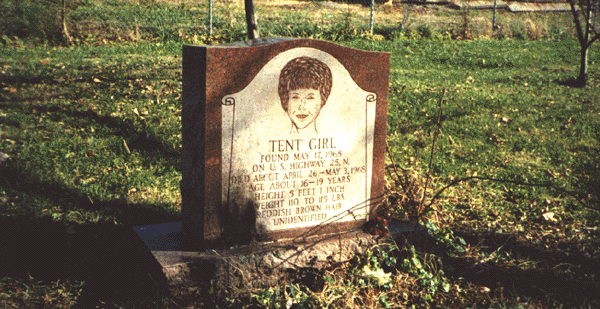 'Tent Girl's' Grave. [Larger version here]
Some Answers
       In late 1997, I was contacted by Todd Matthews and sent the initial information on this case from which the above synopsis was written. Todd Matthews is the son-in-law of Wilbur Riddle, the man who found the Tent Girl's body in the first place; for this reason, Matthews has had a long standing interest in the mystery. By creating the nitial version of this article, Matthews was able to use it to spread the story and police sketches in a further attempt to identify the Tent Girl.
       In February 1998, Matthews contacted a woman on the internet — Rosemary Westbrook — who was trying to locate her missing sister; her sister had gone missing after a short visit with family in Florida in December 1967. Photos of the missing sister bore a good resemblance to the police sketches of the Tent Girl; both matched closely in height and weight, had similar hair color, and both women had a gap between their front teeth, which is a common feature in Westbrook's family. Photos and other pertinent information were forwarded by Matthews and Westbrook to Sheriff Bobby Hammons, who was convinced... so much so, that it was decided to exhume the Tent Girl's body for the purpose of collecting DNA to compare with the family of the missing sister. 
       On March 2, 1998, Tent Girl was exhumed, and sent to a laboratory in Frankfort, Kentucky, for examination by Dr. Emily Craig, forensic anthropologist and state medical examiner. Known details of the Tent Girl and known details and photos of the missing sister were compared closely. Within the new examination, Dr. Craig estimated the age of the Tent Girl at death as being between the ages of 20 and 30; previous estimates, made in 1968, thought she would have been around 16 and 19. The age of the missing sister at the time of her disappearance was 24, falling within the new age estimate for the Tent Girl. 
       The telling point was the DNA test, however. An arm bone with the elbow joint, and the lower jaw with teeth from the Tent Girl's remains were sent to Lab Corp in Raleigh-Durham, North Carolina, to have the DNA sample extracted; this DNA was then compared to a DNA sample from Rosemary Westbrook. The tests took time; but, on April 22, 1998, it was announced that the DNA testing had indeed confirmed what all had hoped... Tent Girl was indeed Westbrook's missing sister, Barbara Ann Hackmann Taylor. 
       When Barbara Taylor lost contact with her family in 1967, she was living in Lexington with her husband, Earl Taylor. She was 24 years old with three children, one of them an eight-month old child, thus explaining where the diaper found with her body came from. Earl Taylor worked with carnivals and driving trucks, and traveled a great deal. 
       At the time of Barbara's disappearance, no search had been made nor any missing persons report filed in Lexington for the simple reasons that Earl Taylor had told her family that she had run away, and her family did not know the Taylors were living in Kentucky; a missing persons report had been filed in Miami, Florida, where Barbara's family had last seen her. At the time that she had visited her family in Florida, Barbara had told them that she and Earl would be moving to North Carolina, and later a police search was conducted there with no results... no one knows why Barbara never let her family know that she and Earl had stopped in Lexington. 
       Sadly, Westbrook had attempted to file a missing persons report with the Lexington Police Department on October 31, 1995, as part of her ongoing search for any trace of her sister. She talked to an Officer Lilly in the Missing Persons/Homicide department, and answered the questions, but nothing ever came of it. On her first visit to Lexington later, she told a TV reporter about the report; when he checked on it, he could find no evidence that the report had ever been filed. It appears that Officer Lilly never filled out the report, and probably felt that he/she was only humoring a strange phone caller on a Halloween night, which is unfortunate... had the report been filed, likely Barbara Taylor would have been identified in 1995, four years earlier than she finally was.
More Answers, Years Later
       On March 17, 2010, Bucks County District Attorney David Heckler announced the official end of the Candace Clothier case. New evidence had led investigators to what they felt were the final answers regarding Clothier's death; answers that clarify the relationship between this case and that of the Tent Girl. 
       The new information came to the police thanks to a 2005 TV program about cold case files that profiled the Clothier case. The police were soon contacted by a woman that was able to identify the bag Clothier was found in as one that had belonged to her; and that her husband had asked to borrow it, taken it outside to a waiting car and disappeared for several hours. These details led investigators to what they believe to be an accurate detailing of the events of the night of March 9, 1968. 
       On this night, Candace Clothier left home around 8:00PM to walk to a trackless trolley, and instead accepted a ride from two young men (described as "slightly older" than Clothier) in a car; it is believed that she recognized one of the men, and therefore trusted them. She was then driven to a "deserted area off Decatur Road near Northeast Philadelphia Airport, where youths often gathered." Here, either of her own will or against it, Clothier was injected with a lethal dose of an illegal drug. One of the two young men had a noted history of forcibly injecting both people and animals with illegal drugs; so it is possible that she was drugged with an eye to making her more pliable to the young men's sexual desires, in which case the overdose was likely accidental. But whether it was a case of manslaughter or murder, the overdose killed Candace Clothier. 
       The two young men then drove her body to the house of a third man, whose wife provided the black bag Clothier was found in; stuffed in the bag, her body was dropped into the Neshaminy Creek from the Chain Bridge in Northhampton, just upstream from the Bucks County Community College. Weeks later, the bag was found washed up upon the small island in the middle of the creek. 
       This investigation has identified all the people believed to have been involved, but the names of these people are being withheld from the public because all are dead; they cannot therefore defend themselves or be punished, and revealing their names would be a burden to their families. The family of Candace Clothier was informed of their names, and knows the full story; and, realistically, that is the most important outcome of the investigation. 
       So, despite the coincidental timing of the murder of Candace Clothier shortly after that of the Tent Girl, and the similarity in the method of disposal, the two cases are not directly related. This is unfortunate, as many hoped that more answers to the Clothier case would also allow for a more precise set of answers in the Tent Girl case.
Remaining Questions
       A cause of death has never been determined in the Tent Girl case; it's treated as a murder simply because of the suspicious way in which the body was disposed. Not surprisingly, Earl Taylor is now the number one suspect in the murder; but he died of cancer in 1987, so proving him guilty will be difficult at this late date. Was Earl Taylor involved in his wife's death? Suspicion falls on him because he never reported Barbara missing; but it's equally possible that she really had run away, and met her fate at the hands of another. But who? And why? 
       In the end, though, the single greatest mystery of the Tent Girl has now been answered; her identity is known. She rests, once again, in the graveyard in Georgetown that she had occupied for thirty years previous... but now she rests under her true name, Barbara Hackmann Taylor.
Variations on the Account
        The Master Detective article has several intentional differences from the newspaper articles. First off, it should be noted that in the Master Detective article Wilbur Riddle was referred to as 'Bart Cranston', and several other people are given false names as well (Dorris Ditmar is called 'Debbie Krane', for instance); this was to protect their privacy, as the editor's note at the end of the article indicates. There are also a variety of dramatic enhancements to make the story more exciting; this article has Riddle literally trip over the body, not just find it, for example.
        The newspapers, too, show variations in details, but most of these are clearly due to incorrect initial information; as in the later articles the facts become more consistent. Here are the major variations:
One newspaper article reports Tent Girl's height as five foot, eleven inches (The Graphic, May 23, 68); Master Detective magazine and the remaining newspaper articles say five foot, one inch, which agrees with the information listed on the tombstone erected for the Tent Girl. 
The Master Detective article says the bag was found about twenty feet from the highway; all other articles say it was found just past a fence near the highway. 
The article from The Graphic for May 23, 1968, says the towel was wrapped around the Tent Girl's head, where the Master Detective article says it was draped over her shoulder. Two other newspaper articles (unknown #1 & Lexington Herald of May 18, 1968) make no mention of the towel, making it clear that there were "no items of jewelery, fragments of clothing or shoes found with the body or in the surrounding areas" (both articles use the exact same sentence, so it was likely from a general news release). 
The article from The Graphic says that Riddle attempted to open the bag, but stopped when he smelled what was inside; the Master Detective article says he opened the bag. 
The article from The Graphic estimates the Tent Girl's age at between 18 and 20 years, but this is an early estimation; the Master Detective article and other newspaper articles all estimate her age at 16 to 19, which agrees with the details listed on the tombstone. 
The Lexington Herald article from May 18, 1968, states that Riddle was "taking down telephone wires"; all other articles agree that he was looking for glass insulators left by men who had done work on the lines.
Acknowledgements
       Thanks go to Todd Matthews for sending me the initial information about this case, his continuing help in the investigation, and the photograph of the Tent Girl's grave... and thanks also go out to Rosemary Westbrook for sending me the follow-up articles after the Tent Girl's identification. I also owe thanks to Charles Connolly for alerting me to the closing of the Candace Clothier case. Thanks are also due to Kathi Farmer and Fred Bomberger, for locating additional newspaper articles for me.
Anomalies -- the Strange & Unexplained, as well as my other website -- Monsters Here & There -- are supported by patrons, people like you!
All new Anomalies articles are now posted for my patrons only, along with exclusive content made just for them. You can become a patron for just $1 a month!