1632 (ca.): The Key Witness [Patrons Only]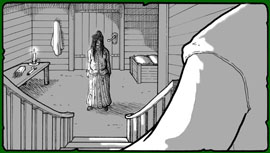 "About the year of our Lord 1632" -- as begins the earliest account of the matter I can find -- a miller named James Graham found himself confronted by the horrible apparition of a woman... and, though he had absolutely nothing to do with her or her death, she was going to haunt him until she got what she wanted! Become a Patron to read the full article!
Anomalies is supported by my Patrons!

Click Here to go to Full Article in Patreon

Anomalies and its sister site Monsters Here & There are supported by my patrons, people like you. Part of how I thank my patrons for their support is to present all new articles from MH&T for them a year before they become public; and all of my new Anomalies articles are exclusive to my patrons only! This full article is currently available at the Patreon website for my patrons... why not join them in supporting me today?

You can become a patron by making a recurring pledge of just $1 a month! As stated, all patrons get super early access to all new MH&T articles, and exclusive access to all new Anomalies articles, as well as other special articles and other extras! So help me Keep The Paranormal Real, while giving yourself access to even more great stories!