1898: The Girl from the Future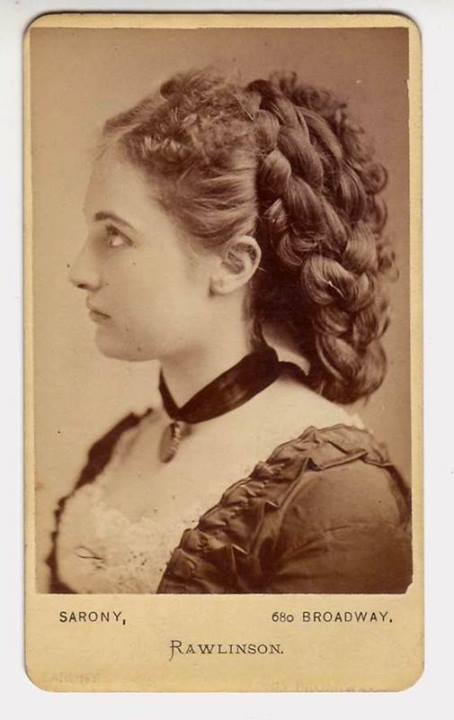 The Legend:
"Time travel will be invented in the year 2025. How do we know? Because that is the year that this delightful lady claimed to have traveled from. In the year 1898, according the contemporary reports, Alexandria Alexis appeared 'as if from nowhere' and took New York society by storm. Some fawned over her while others claimed she was insane. This debate was however rendered moot when, on New Year's Eve 1899, she simply disappeared..."
Humbuggery
        As it turns out, this particular story was not meant to fool people... just entertain them. It started to be cycled on the internet in 2013 as part of a advertising plan for a then upcoming "steampunk" science-fiction novel. I first ran across this particular story through Facebook, of all places; one of my friends sent me the link, knowing my predelection for the strange [link].
       The original post, whose description I posted as the legend above, was put up by the Facebook user known as "The Victorian Academy of Magick," which has proved to be full of many other stories that will likely end up here someday. Digging further, I found a forum at The Magic Cafe [link] where user Voodini explains the fact that the Victorian Academy of Magick Facebook site is an advertisment of sorts for a steampunk novel still in the making. Should be fun when released... but in the meantime, I'll be getting emails from people who don't realize the Facebook site has fictional content!
Who's That Lady?
        Which brings me to my last point of interest: who is that in the picture?
        As the picture plainly shows, it was taken by Napoleon Sarony, who had an office at 680 Broadway in New York City from 1866 to 1871 (after which he moved to a different location), so this photo was taken between 1866 and 1871. Following the conventions of his photographs, the lady's name is Rawlinson, and she was likely a performer of some sort because Sarony almost exclusively took promotional photographs of stage performers. Past that, I'll need the help of someone more familiar with the performers of the time. Any volunteers?

Reader's Reports, January 2014
        A volunteer stepped forward! The following was submitted via the Reader's Reports by cmgseattle; thanks!
        Actress Grace Rawlinson - c. 1870s
        Biography: 
        An English provincial actress who worked in the United States for three seasons, from 1870 through 1873, Grace Rawlinson initially appeared as a replacement in "The Black Crook," and more substantially as a touring repertoire artist co-starring with Neil Warner. Her stint as Amina in "The Black Crook" was short-lived, and she quickly secured a booking at the Louisville Opera House working with James Stewart and Cordelia Cappell.
        In late 1871 she teamed with Warner, in a minimalist tour of Shakespearean readings, and favorite scenes from historical dramas such as "Ingomar" and "The Hunchback." By 1873 the troupe had added original members, returned to New York for a stint in the Bowery Theater where the couple performed "A New Way to Pay Old Debts," "Macbeth," "The Corsican Brothers," and "Richard III." This appears to have marked the end of Rawlinson's American sojourn. David S. Shields/ALS
Anomalies -- the Strange & Unexplained, as well as my other website -- Monsters Here & There -- are supported by patrons, people like you!
All new Anomalies articles are now posted for my patrons only, along with exclusive content made just for them. You can become a patron for just $1 a month!