2018, October 30: Spirit of the River Ystwyth
Dave Newnham had been the estate manager of the Hafod Estate in Ceredigion, Wales, for ten years when the strange incident occurred. On October 30, 2018, Newnham was checking the footpaths on the estate previous to heading home for the day when, around 6:15PM, he spotted a woman standing in the River Ystwyth, near Dologau Bridge.
         It was a cold night, and Newnham at first suspected the woman might be in trouble, so he called out to get her attention; and, though he didn't state why, Newnham later said "it wasn't long before I realised she wasn't a person at all." So Newnham quickly took a picture of the strange woman, who then seemed to "disappear and merge into the river."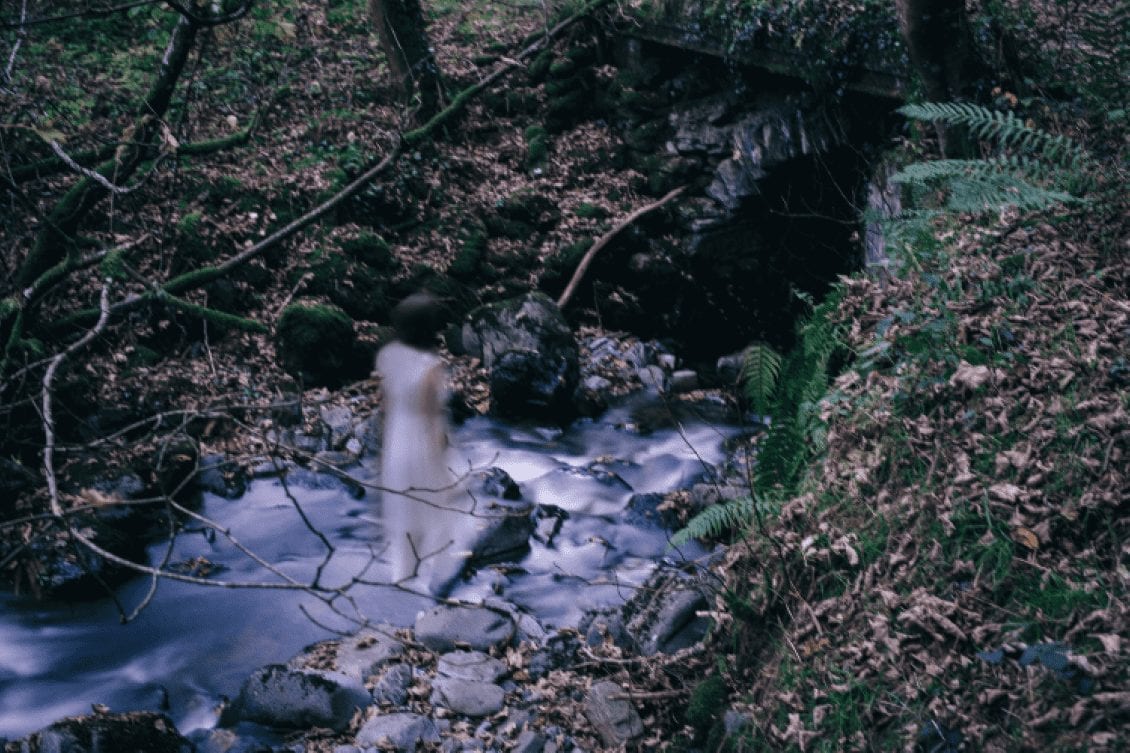 A woman in white... [Larger version here]
        The story hit local news sites on October 31, 2018, where it was stressed that people local to the area had come to the conclusion that Newnham had run across the water spirit of the River Ystwyth, who featured in a local legend about three rivers that run down from the highest mountain in the area, Plynlimon; this was presented as:
"The tale of the Three Sisters of Plynlimon
"High in the black mountains, on the windswept slopes of Mount Plynlimon, three sisters met to discuss the weighty problem of what was the best way to the sea – for, being water spirits, they were fond of the oceans. The first decided to take the direct route and headed westward. She became the river Ystwyth and was the first to mingle with salty waters. The second sister had a taste for landscape and made her way through purple hills and golden valleys – her name was Wye. The remaining sister decided against short-cuts and it took her 180 miles to reach the sea. The Severn, it appears, wished to visit all the fairest cities of the kingdom and never stray far from the haunts of men."
And that's all there is to say in this case.
Anomalies -- the Strange & Unexplained, as well as my other website -- Monsters Here & There -- are supported by patrons, people like you!
All new Anomalies articles are now posted for my patrons only, along with exclusive content made just for them. You can become a patron for just $1 a month!