2014, April 2: Rossendale Fairy Photographs
On April 2, 2014, John Hyatt - a lecturer at the Manchester Metropolitan University in Manchester, England - announced that he has been taking pictures of fairies in the Rossendale Valley, Lancanshire, for the past two years. He also announced that the pictures would be on display in a special exhibition, called the Rossendale Fairies, which will be on show at The Whitaker Museum in Whitaker Park in Rossendale throughout the spring of 2014.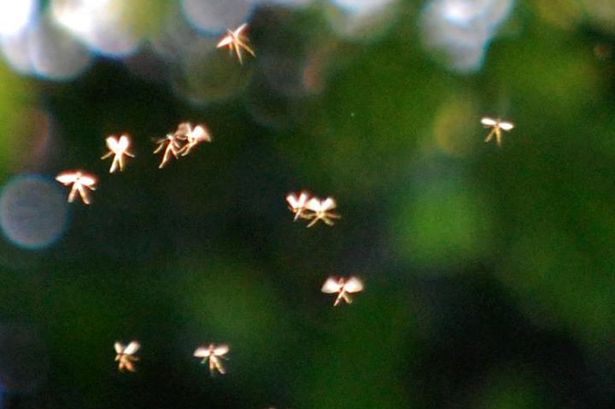 Hyatt insists the pictures are genuine and not retouched in any way: "I was just taking sunset through the trees and when I enlarged the photographs later in the studio, I saw these figures," he wrote. "They are not doctored apart from I increased the size of a detailed section of a larger photograph along with the DPI to stop them being just large pixels -- normal size enhancement techniques." [quoted from Huffington Post website, 4/7/2014] However, it has to be noted that he's also the Director of the Manchester Institute for Research and Innovation in Art and Design (MIRIAD), which makes me rather cautious on any claim the photos haven't been altered.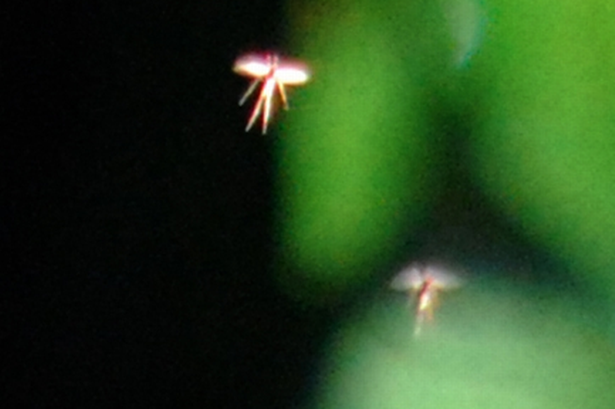 The two pictures above were included in the April 2 news release as examples of the pictures that will be at the exhibit. Hyatt says that he also took pictures of flies and gnats in flight to compare to his humanoids, but that they didn't look the same. Hyatt concluded: "People can decide for themselves what they are. The message to people is to approach them with an open mind. I think it's one of those situations where you need to believe to see. A lot of people who have seen them say they have brought a little bit of magic into their lives and there's not enough of that around."  [quoted from Manchester Evening News website, 4/2/2014]
Under Investigation
        Hyatt claims he released several photos to various social networking sites, which sparked much debate, but apparently encouraged him to do the public showing; therefore, I might be able to locate more of the photos, which I will try to do. Of course for those of you who are skeptical, it might be noted that Hyatt may have released the images to social networking sites to test whether they could be spotted as fakes or not before he went public.
        By the April 7, newspapers were already running the professional opinion of entomologist Erica McLaughlin (posted on the British Natural History Museum's NaturePlus blog) that identified the fairies as a mating swarm of small flies called "midges," whose males will 'dance' in the air with their legs dangling to attract mates at certain times of the year.
        Ben Hansen, former FBI agent and lead investigator on the SyFy network's series "Fact or Faked: Paranormal Files," also put forth his opinion that not only are the photos not of fairies, but that Hyatt damn well knows it. "The majority of his quotes are redirecting the conversation away from the facts of the case and instead, toward a discussion on belief and magic. His motive? He clearly does what you would expect for an art and design director to do... bring 'magic into their lives' by appreciating the beauty of life that 'grows everywhere,' which in turn 'can make people believe.'"
        Hansen argues that the fairies were not accidentally discovered in the pictures; they were, in fact, the main focus of the pictures to start with. "The foliage is all blurred together for that artsy look that really crushes the background. He says he didn't see the fairies until later, but aside from the motion blur, they look quite in focus. It would be quite coincidental that the fairies all happened to emerge in front of the camera at the precise distance they would be in focus." [quotes from Huffington Post website, 4/7/2014]
Anomalies -- the Strange & Unexplained, as well as my other website -- Monsters Here & There -- are supported by patrons, people like you!
All new Anomalies articles are now posted for my patrons only, along with exclusive content made just for them. You can become a patron for just $1 a month!