2010, September 8: One Big Koi!
On September 8, 2010, the Daily Mail website ran a short, but intriguing, article about one of French fisherman Raphaël Biagini's more recent -- and most unusual -- catches. Have a look: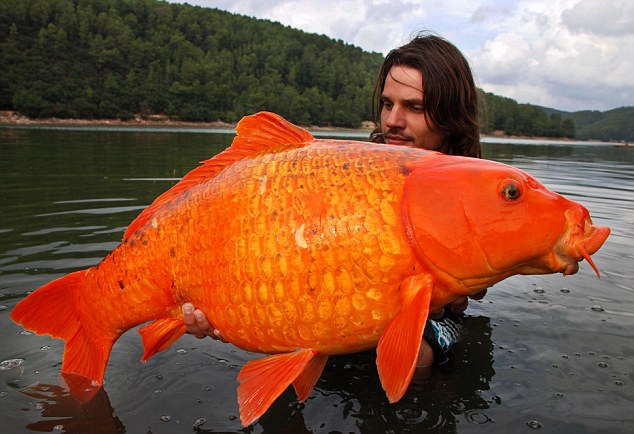 Raphaël Biagini displays his unusual catch. [Larger version here]
The Daily Mail tells us that Biagini caught this 30lb fish in a lake in Southern France (but doesn't name it), and that it took Biagini ten minutes to reel the orange monster out of the lake. Don't fret: after the photo was taken, we're told that Biagini released the fish back into the lake.
        Amazingly, Biagini had just been talking a little earlier with some fellow fishers who told him they had spent six years attempting to snare a legendary "giant goldfish"... which makes his immediate catch afterwards more astounding.
        And suspicious.
Did It Happen?
        Though the story was quickly picked up by other online news agencies, there was more than a little immediate doubt about the story largely because the Daily Mail is a British news service that has a bad reputation for creating good stories when they need them, either by adding new details or just making stories up. As a matter of fact, as of February 2017 the web-based encyclopedia Wikipedia no longer accepts the use of the Daily Mail and its related sites as sources for articles, precisely because they can't be trusted! Under the circumstances, many people started to assume the photo above was altered.
        Surprisingly -- considering the Daily Mail is involved -- Raphaël Biagini did, in fact, catch the fish above. While I don't know how the Daily Mail website got the story initially, a brief run through Biagini's Facebook page shows that not only does he basically spend all of his time trying to catch gigantic fish, but that he's used the shot above for the cover of his book about his fishing adventures. In addition, he has a YouTube post, "Most famous Giant Goldfish in the World," that displays several more photos of this particular fish, proving it was both real and released back to the lake [Link Here!].
        Which does bring up one detail of the article -- and Biagini's video -- that needs to be mentioned: the fish is not a goldfish. Rather, it's a koi carp, the sort commonly seen in ponds in Japan. Both koi and goldfish belong to the carp family, but they have some physical differences from one another; the big giveaway here are the barbels (or "whiskers") on the fish's mouth.
        The good news for the story is that carp in general, and this includes both koi and goldfish, have no real maximum size they grow to... if the food's available, and the environment is healthy, both koi and goldfish will just keep growing as long as they live; so, while a startling catch, this koi's size is perfectly possible! But, given how much a coincidence it would be for fishermen to be talking about a legendary "giant goldfish" right before Biagini caught one, it's pretty likely that said conversation is just an invention of the Daily Mail.
        Oh, and by the way... if you want to see an actually big goldfish, follow the link below.
Anomalies -- the Strange & Unexplained, as well as my other website -- Monsters Here & There -- are supported by patrons, people like you!
All new Anomalies articles are now posted for my patrons only, along with exclusive content made just for them. You can become a patron for just $1 a month!