1980 (pre): Photo of a Ghost - the 'Monk'
The origin and date of this picture are currently unknown, and it is spread across the internet with no back-story. Despite this, it's asserted as a 'true ghost photo.'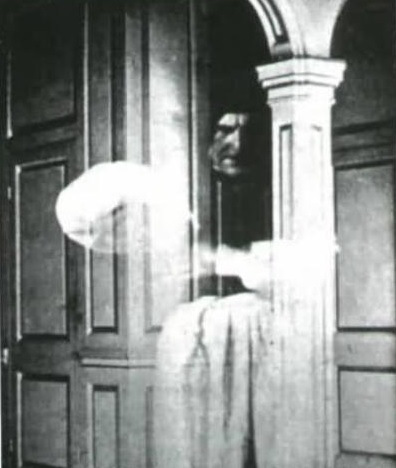 A strange photo. [Picture sources here]
        Generally described as a picture of a monk in the few English language sites that give a caption for it (most just show the photo with no explantion at all), one Russian posting of the image claims more specifically this is "A monk from the Museum of the Holy Church in Palermo."
        I personally know I saw this particular image in a book about ghosts in a school library in 1980, hence I've set it's date as pre-1980 and expect I can eventually track down it's tale... though apparently, not using the Internet!
        Visually speaking, it could clearly be a double exposure of a man taken in a dark setting followed by a second photo of the wall, letting the wall fill in areas that were dark in the earlier picture of the man. So what's needed now if anyone wants to assert this as a ghost is the story of where and how it originated. I'll keep digging; after all, I know I've run across it before. Until then, this is marked as 'Unreliable' as evidence of the paranormal.