1926 (ca.): The Brownstown Duo
The Legend:
The picture below is said to display a giant skeleton and a deformed dwarf skeleton that were found buried in the village of Brownstown, West Virgina, USA, unearthed sometime previous to 1926, when the "History of Fayette County, West Virginia," published the news.

        This item has been popular in Pinterest and Facebook, and originates at a website called Nephilim Chronicles [Link Here], where the story and picture were first posted March 14, 2014.
The Real Story
        The above is actually a cut-down image from a postcard sold at the Mutter Museum in Philadelphia, Pennsylvania, USA, that displays a giant they acquired in 1877 next to an average sized skeleton, and the skeleton of a female dwarf named Mary Ashberry. Compare to the postcard image [this postcard can be bought online, by the way]: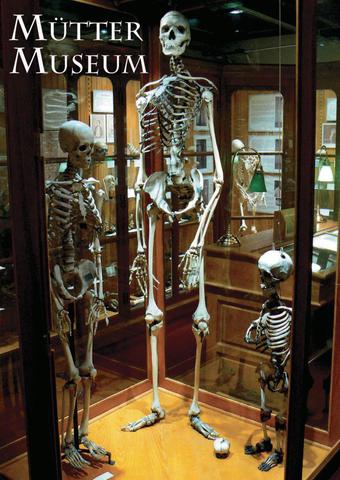 ...so the picture does not display what it is claimed to display. Also, as far as I can determine, the reference to the "History of Fayette County, West Virginia," published 1926, as well as the supposed account of a giant and dwarf being dug up near Brownstown, is a purely invented item of the Nephilim Chronicles website, first posted March 4, 2014. Not surprisingly, their website is trying to sell a book on the topic of archaeological giants... I'd give it a miss.
        Oh, and for those of you who don't know, the actual original identity of the "American Giant" in the picture above remains a mystery to this day... you can find more on that story at the 'See Also' links below.
Anomalies -- the Strange & Unexplained, as well as my other website -- Monsters Here & There -- are supported by patrons, people like you!
All new Anomalies articles are now posted for my patrons only, along with exclusive content made just for them. You can become a patron for just $1 a month!