2019, October 15: Mr. Fritz [Patrons Only]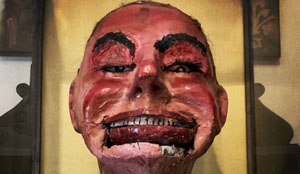 On October 19, 2019, the English news service The Sun featured a very spooky story, which was soon picked up by other news services, and social media in general.
        According to the article, an antiques collector in Liverpool, England, named Michael Diamond kept discovering the door on one case in his collection open every morning, so he set up a closed circuit camera to watch the case overnight to see why it kept being opened. The case contained "Mr. Fritz," the head of a ventriloquist doll...
The apparently haunted ventriloquist doll head was first reported by news services on October 19, 2019... but they didn't tell the whole story behind the sinister figure!
Anomalies is supported by my Patrons!

Click Here to go to Full Article in Patreon

Anomalies and its sister site Monsters Here & There are supported by my Patrons, people like you. Part of how I thank them is to present articles that only they get to see, and this is one of them. The full article is available at the Patreon website.

You can become a Patron by making a recurring pledge of just $1 a month! All Patrons get early access to all new articles for both websites as well as, of course, exclusive articles and other extras! So help me Keep The Paranormal Real, while giving yourself access to even more great stories!